Pen
Cayetano
–
The
King
of
Punta
Rock
Pen Cayetano is a trailblazer in Garifuna culture, known for his contributions as a visual artist and musical pioneer.
In the late 1970s, Cayetano led the evolution of traditional Garifuna music, known as punta, into the popular genre of Punta Rock, introducing the first contemporary Garifuna rhythm. His songs, mostly in Garifuna language, call for pride and awareness (Uwala Busiganu – Don't be ashamed of your culture). He innovated the use of turtle shells as a percussion instrument, giving his Turtle Shell Band its unique name. The band was formed in 1980 with original members including Peter Jeep Lewis, Myme Martinez, Faltas Norberto, Bernard "Higgins" Higginio, and Mohobub Flores. Together they paved the road for future dynamic Punta Rock artists.
Punta Rock gave the Garifuna people a global platform to express political, social, and economic issues, and strengthened the cultural awareness and national identity of all ethnic groups in Belize. Punta Rock gained international recognition at the New Orleans Jazz Festival in 1983 and 1986 with performances by the Turtle Shell Band.
In 1990 Pen Cayetano and his family immigrated to Germany where they formed the band "The Cayetanos" in 1998. With their recordings "Punta Rock" in 2000 and "Home Belize" in 2007, the Cayetanos have earned a respected place in the Punta Rock genre.
For his contribution to art, music and culture in Belize, Pen Cayetano received numerous awards: 2013 M.B.E. by her Majesty Queen Elisabeth from England, 2018 Meritorious Service Award by the Government of Belize, 2018 Garifuna Music Lifetime Achievement Award' in New City and 2020 Artist Emeritus Award by the Government of Belize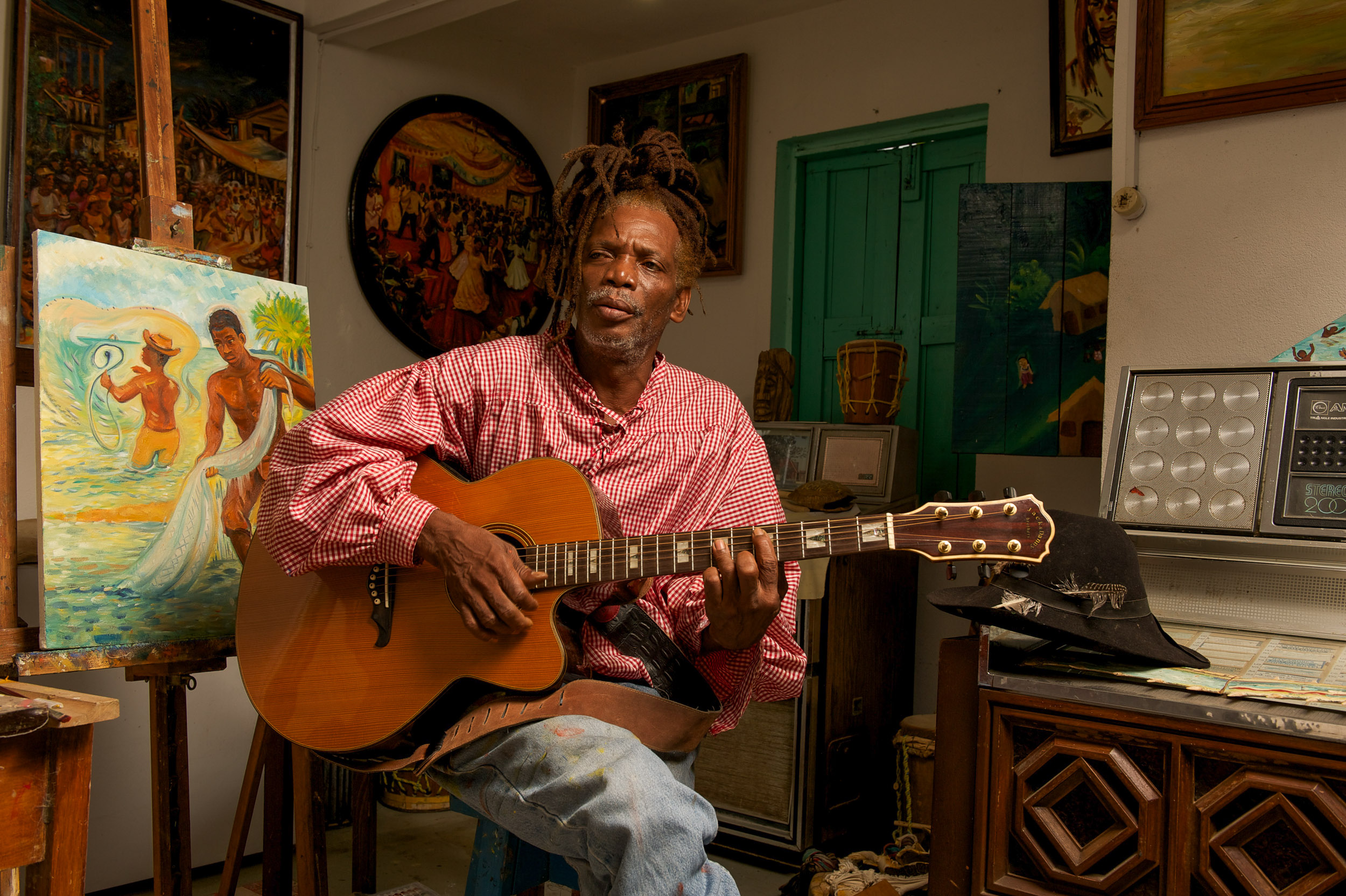 The Cayetanos "Punta Rock", 2000
Most popularly accessible and manifestly dance-oriented is The Cayetanos (2000 – Turtle Shell Music), with Pen (vocals, rhythm guitar, Garifuna drums, turtle shells), wife Ingrid (percussion, backing vocals), and their children Mali (keyboards, vocals), Beni (bass, backing vocals), and Ibo (drums, backing vocals). All, but one song, are Cayetano's originals, the exception a meditative, percussion-only sacred dugú chant, "Wamalíha," with Cayetano's reverb vocals, the most unusual track of an otherwise amplified repertoire.
Michael Stone
The Original Turtle Shell Band "The Beginning", 2001
The Original Turtle Shell Band (Turtle Shell Music) was recorded in a Belize City radio studio between 1980 and 1982, just as Belize gained its independence from Great Britain. Digitally remastered in Germany, the recording retains the raw quality of live low-tech, projecting the raucous vitality of an emergent music. After jamming at Cayetano's art studio and perfecting their chops at what they called "roadblocks" on the streets of Dangriga, the band took a bus to Belize City and set up in a park to play. When a tropical cloudburst cut short their enthusiastically received impromptu performance, a passing technician invited them to the Belize Radio One studios, which sessions fortuitously captured the group in its genesis.
Michael Stone
Pen Cayetano & Mohobub Flores "The best of Punta Rock", 2002
Perhaps more accessible (at least in terms of recording quality) to the uninitiated listener is The Best of Punta Rock (Turtle Shell Music), a collection of songs laid down between 1982 and 2001. Don't be misled by the title: the only thing "rock" about it is the occasional idiosyncratic use of amplification, and an aesthetic sensibility that stretches intuitively to the West African roots that inform so much New World popular music. The Best documents the ongoing collaboration of Pen Cayetano (vocals, flute, acoustic guitar, bass, turtle shells, Garifuna drums, percussion) with fellow Turtle Shell Band founder Mohobub Flores (vocals, acoustic guitar, turtle shells, Garifuna drums, percussion), who pursues his own solo career as well.
Michael Stone
Pen Cayetano "In mi Country", 2003
In Mi Country comprise the 1994 cassette release of the same name and the 1996 cassette release Sweet Africa. This recording thus represents critical addition to the story of Garifuna music in diaspora, one that will help listeners to appreciate how the music has evolved from a regional ethnic tradition to an increasingly transnational blend of stylistic influences. Pen recorded the 13 songs in Germany with African and German musicians.
Michael Stone
Mali Cayetano "Not doing well", 2005
In her debut album Malí sings about love and the pitfalls of being in love. Her melodious, clear voice reaches out to touch a special place in the heart of the listeners. The ten songs were recorded in Germany and back up by the family band the Cayetanos.
Billie Jean Young
Isabel Flores & Lady Lard"Garifuna PUNTA Anthology", 2006
The Garifuna Punta Anthology is a collection of 17 songs composed by the Garifuna icons Isabel Flores and Lady Lard (Leocardia Bernadez Ruiz Mariano) recorded in 1973.  This CD is a reminder of those who forsake the roots. Listen to the greatest Garifuna drummer ever and the Mahalia Jackson of Garifuna songs.
Pen Cayetano & The Cayetanos "Home Belize", 2007
Home Belize is the second recording by the family band. Eleven songs are composed by Pen Cayetano and one song by Malí Cayetano talking about their roots, love and courtship and honoring the ancestors. The Lyrics are written in English, Garifuna, and German language. The encounter between traditional and modern instruments contributes to the high-spirited expressive vitality of Punta Rock.