A tapestry of Garifuna Culture in Dangriga
Another medium on which Pen has concentrated are murals. In November 2012 he unveiled his highly ambitious and extremely well executed piece entitled "Hayawadina Wayunagu" (Imagery of our Ancestors) at the Town Hall in Dangriga. In 2013 he followed with the mural "The original Turtle Shell Band, 1981" at his studio.
HayawadinaWayúnagu is the Garifuna name for Pen Cayetano's most ambitious masterpiece. Literally it means the "imagery of our ancestors" and is pronounced (hayawaDina waYUnagu). For some weeks Pen has been methodologically infusing into the second floor back wall of the Dangriga City Hall a rich colourful tapestry of Garifuna culture. The imagery that Pen has brought to life in this monumental work of art is literally his own personal testament about persons who have inspired him in his varied interests in the fields of history, culture, spirituality, and artistic performance.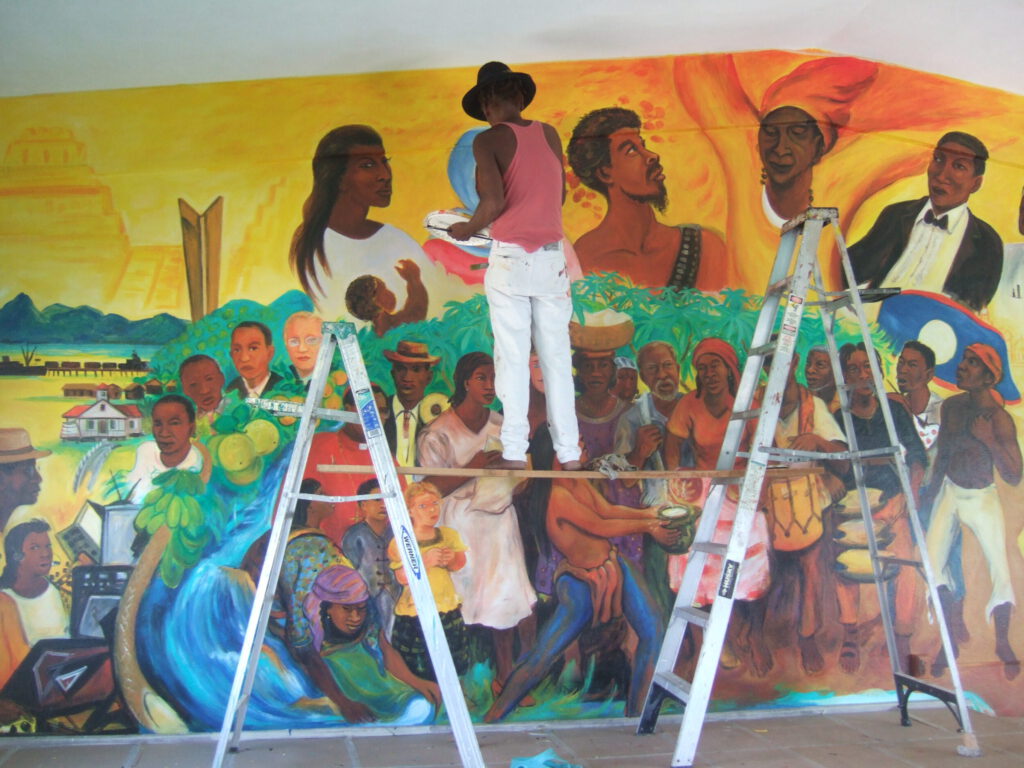 From history Pen depicts the connectivity of Joseph Chatoyer and his daughter Gulisi between the island of St. Vincent in the Eastern Caribbean and the Garifuna people in Central America, more specifically in southern Belize. Joseph Chatoyer was the military resistance leader against the British, who died 1795 in St. Vincent. His daughter Gulisi was one of the exiles the British shipped to Central America, who survived and became one of the early settlers of southern Belize together with her eleven sons.
In the dynamic field of culture Pen pays tribute to persons who have been pioneers in the documentation and dissemination of the good news of the survival of the Garifuna nation. He pays similar respect to persons – living and dead – who have been leaders in spirituality – both Garifuna and non-Garifuna. It is in the field of the performing arts, however, that most of the persons in the Mural are featured – specializing in music, dance, poetry, drama, and folklore. Through such imagery Pen gives full endorsement to the UNESCO 2001 Proclamation of Garifuna language, music, and dance as masterpiece of the oral and intangible heritage of all humankind. Persons in the Mural also include men and women who have been leaders in entrepreneurship, industry, labor union, and politics – fields in which the Garifuna are not normally known to excel.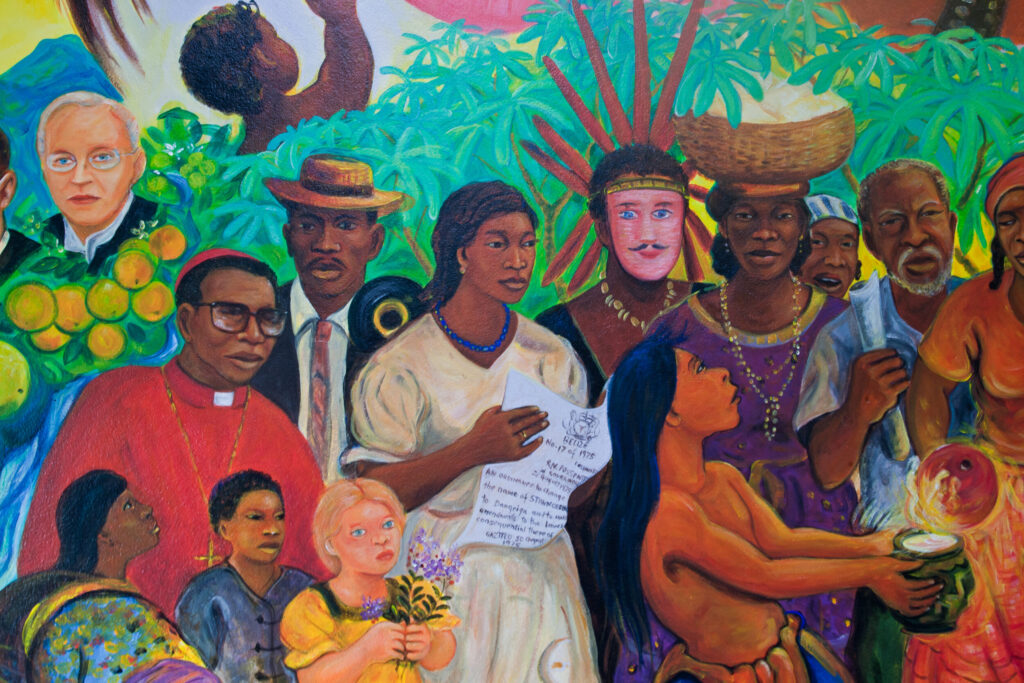 While clearly depicting leaders in given sectors, there are some cross-cutting themes that come alive in Hayawadina Wayúnagu. They are inter-ethnicity toward the forging of a common Belizean identity and inter-generational continuity. The Maya, Mestizo, Kriol, Chinese, and Caucasian are shown interacting in various ways with the Garinagu. Indeed, inter-ethnicity and inter-generational continuity come vividly alive in Pen's depiction of his own family consisting of his wife Ingrid from Germany, an artist in her own right, and their three children, all of whom work in various aspects of art.
Pen is a man, who has lived most of his life painting, drawing, singing, developing, and playing musical instruments (such as the turtle shell), leading his own band, teaching, and generally advocating for artistic freedom for persons at the grassroots alive and beyond. This is the eternal message of HayawadinaWayúnagu!
Joseph O. Palacio PhD, 2012